The Janome HD3000 Heavy Duty Sewing Machine is a true workhorse packed with power and features. With a Heavy Duty Aluminum Body, 19 Built-In Sewing Stitches, An Automatic Needle Threader, Adjustable Presser Foot Pressure, an Included Hard Cover and Much More you will wonder what this machine can't do!
Included Hard Cover
Aluminum Body Construction
18 Built-In Sewing Stitches
Free-Arm Capability
Adjustable Presser Foot Pressure
Automatic Needle Threader
THE PERFECT MACHINE FOR ...
+
Heavy Duty Sewing
Leather + Denim
On-the-Go Sewing
Clothing / Garment Construction
Light to Heavyweight Fabrics
Bulky / Multi-Layered Fabrics
Shirt Sleeves and Pants
25-YEAR SEWING HEAD
LIMITED WARRANTY
AUTHORIZED DEALER
The warranty of the Janome HD3000 Heavy Duty Sewing Machine is 25 years limited sewing head, 5 years limited electronic, and 1 year all parts and labor. Mr Vac & Mrs Sew is an authorized Janome dealer.
Now when you purchase the Janome HD3000 Heavy Duty Sewing Machine, you will receive a FREE! 5-Piece V.I.P Reward Package and FREE! Shipping (Almost $35 Retail Value).

Lights, Camera, Action! The V.I.P is Here! Purchasing a Janome HD3000 Heavy Duty Sewing Machine from Mr. Vac and Mrs. Sew instantly upgrades you to V.I.P Status making you eligible to receive a FREE! 5-Piece V.I.P Reward Package and FREE! Shipping. The 5-Piece V.I.P Reward Package, includes Free Shipping, Ultra Glide Sewing Foot (Retail Value - $17.99), Package of 5 Needles (Retail Value - $4.00), 2 - Package of 5 Leather Needles (Retail Value - $8.00) and a Set of Bobbins (Retail Value - $5.00), Absolutely FREE!

Click Here for More Info on the FREE! 5-Piece V.I.P Reward Package
Automatic Needle Threader
Tired of straining your eyes when threading your needle? Threading the needle is simple thanks to the Built-In Automatic Needle Threader. No more Strain and No More Frustration!
Jam Proof Top-Loading Bobbin System
The Top-Loading Drop-In Bobbin System makes it easy to change the bobbin when you run out. The Cover is clear so you can easily see if you are running out of bobbin thread. Janome's Bobbin System is Jam-Proof so you don't have to worry about your machine jamming if you sew off the edge of your project.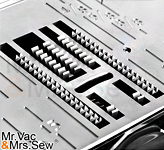 Drop Feed Capability
Free motion quilting to old fashion darning is easy with the drop-feed system. No hard to use darning plates, just push the drop feed switch over and the feed will drop.
Easy Stitch Selection
The Janome HD3000 is an easy to use machine even for the beginner sewer. Simply turn the stitch selection dial located at the side of the machine to Select the Desired Stitch on the Upper Stitch Panel. The Desired Stitch is chosen when the Stitch Selection Window under the Stitch is Red.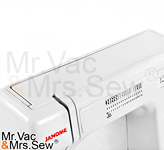 Flip-Up Stitch Panel
Located at the top of the machine is a convenient flip-up stitch panel that shows you all of the Built-In Stitches at a glance. It also tells you the corresponding sewing foot that goes along with the sewing stitch that you have chosen.
Adjustable Stitch Width and Length
Easily adjust the Length and Width of stitches to whatever you like via the Stitch Width and Length Sliders!
Adjustable Presser Foot Pressure
The Adjustable Presser Foot Pressure Dial allows you to adjust the pressure on the fabric with the turn of a dial. This allows for sewing on a greater variety of fabrics.
Precise Tension Control
Great projects begin with great tension! Worry free tension makes your projects look and be professional. The Janome's superior tension control gives even results on most fabrics.
Storage Space For Included Sewing Feet
Located at the top of the machine is storage space for the Included Sewing Feet No More Losing or Misplacing your Feet; their are all readily available at the top of the machine!
Auto-Declutch Bobbin Winder
No more fighting with old handwheels that won't release! Just push the bobbin winder to the right and the auto-declutch will automatically stop the needle from moving!
Large Reverse Stitch Lever
Located at the front of the machine is a large easy to use reverse lever. Great for reinforcing your stitches.
Free-Arm Capability
Do pants legs and shirt sleeves with this great feature! Just take of the free-arm off by sliding it to the left and your ready to go.
Precise Electronic Foot Control
An electronic foot control gives you powerful piercing ability to go through thicker materials with ease.
Included! Hard Cover
The Janome HD3000 comes packed with a Hard Cover, which is great for when your machine has to go into storage or when you need to take it on the go.
Extra-High Presser Foot Lift
With this machine you can fit multiple layers fabric or bulky fabrics under the presser foot with ease.
Carrying Handle
The built in carrying handle makes it easy to carry.