The Miele Blizzard CX1 Cat and Dog Bagless Canister Vacuum Cleaner is the perfect Miele vacuum for any Pet Owner! Whether you are dealing with an abundance of dog hair or cat hair, this machine can handle it with ease and all without the hassle of a bag. Not only does the Cat and Dog provide a deep clean bundled with the convenience of a bagless machine; it comes packed with an SEB 228 Electro Plus Powerhead, SBB 300-3 Parquet Twister, and a STB 101 Mini Turbo Brush. To top it all off, the Cat and Dog Blizzard comes with a HEPA AirClean Lifetime Filter built in for the cleanest air possible.
Completely Bagless
HEPA AirClean Lifetime Filter
Powerful Vortex Technology
Miele SEB 228 Powerhead
Miele SBB 300-3 Parquet Floor Brush
Miele STB 101 Mini Turbo Brush
THE PERFECT MACHINE FOR ...
+
Bare Floors
Carpet/Rugs
Deeper Pile Carpets
Very High Filtration
Easy Maneuverability
Above Floor Cleaning
Quiet Vacuuming
Pet Owners
Stairs
Odors
7-YEAR MOTOR
WARRANTY
AUTHORIZED DEALER
The warranty of this Vacuum Cleaner is 7 years on the motor and 1 year on all parts and labor. Mr. Vac & Mrs. Sew is an authorized Miele Diamond Dealer.
Free Overnight Delivery! When you purchase a Miele Blizzard CX1 Cat and Dog from Mr. Vac and Mrs. Sew, you will receive Free Overnight Delivery with your purchase.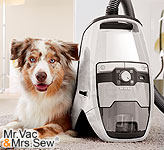 Perfect For Pets
The Miele Blizzard CX1 Cat & Dog is the perfect machine for any pet owner. It's powerful suction and impressive Miele SEB 228 Powerhead work in tandem to clean any pet hair mess with ease. It's Lifetime HEPA Filter cleans the air of any allergens and small particles so allergy sufferers can live in peace.
Completely Bagless
Unlike most vacuums, the Blizzard CX1 does not use any bags. Now there is no need to spend on expensive vacuum bags, simply empty the bin when its full and continue cleaning with the power of the CX1.
Powerful Vortex Technology
The Blizzard CX1 uses powerful vortex technology to provide the deepest clean possible. By creating a centrifugal force made by an airflow rate of over 100 km/h, the Miele Blizzard CX1 can effectively separate dust from larger particles ensuring maximum performance.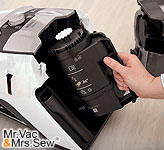 HEPA AirClean Lifetime Filter
Perfect for allergy sufferers, the Blizzard CX1 also cleans the air as it exits the machine with its impressive HEPA AirClean Lifetime Filter that can filter up to 99.999% of small particles so that the dust and allergens picked up never leave the machine. In fact the medical organization Allergy UK has officially certified the HEPA Airclean Lifetime Filter to be suitable for allergy sufferers.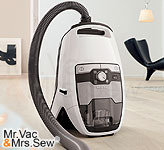 Adjustable Suction Power
The Blizzard CX1 has the ability to change its suction power in accordance to your situation, making the floorhead easier to move and providing a better clean. Simply select the proper suction by selecting the graphic symbol that matches your situation and start cleaning.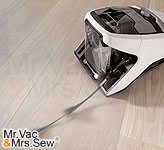 Comfort Cable Rewind
The cable rewinds automatically when the footswitch is pressed. No more wrapping up cords manually!
33-Foot Cleaning Radius
The Blizzard CX1 has an impressive 33-foot cleaning radius so you can comfortably clean without changing electrical sockets frequently.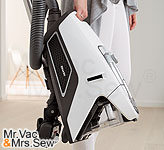 Easy Parking System
The Miele Blizzard CX1 has a convenient fitting on at the backside of the canister for safe storage and easy transportation. Carry the vacuum cleaner up or down stairs and have the other hand free to hold on to the railing.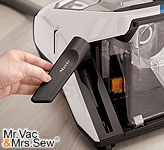 Integrated Accessories
The Blizzard vacuum comes complete with a crevice tool, an upholstery tool and a dusting brush. Tools are always on hand, and built into the back of the machine for convenience.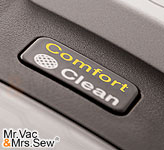 Comfort Clean
The Blizzard CX1 comes with Miele's innovative Comfort Clean technology. Comfort Clean automatically measures and monitors the air exiting the filter and undergoes a 20 second self-cleaning process when needed. Comfort Clean operates automatically although it can be activated manually by simply pressing the Comfort Clean button located on the machine.
The Miele SEB 228 Powerhead
This electrically driven carpet tool with an extra wide brush roll lets you adjust height based on the pile of the carpet and is perfect for deep cleaning medium to high pile carpet. This amazing powerhead is extremely powerful and almost pulls itself making cleaning easy and fun.

Recommended for:Deep cleaning and restoring crushed carpet nap on all types of carpeting. Highly recommended for use on heavy and/or high pile carpet.The SEB 228 is also great for picking up large amounts of pet hair from carpet.
The Miele SBB-300 Parquet Floor Brush
Designed to go flat under baseboards, low under furniture, tight up against kick jams and around chair legs. With a 90 degree twisting rotation there not many places this floor brush can't go! Ceramic, laminate and natural wood surfaces are no problem!
Included STB101 Turbo Brush
Our furry friends seem to get their hair everywhere from the carpeted stairs to the velour furniture. This Handheld Turbobrush will help remove the stubborn pet hair with it's high-speed rotating brushroll.
Omnidirectional
The Blizzard has 360 degree wheels mounted on steel axles to ensure maximum stability for your Miele vacuum cleaner. The castor wheels are even designed with a travel ramp to help your vacuum travel over thresholds and around obstructions! No detail is to small for Miele's design team.