The Dyson Cyclone V10 Motorhead Cordless Vacuum Cleaner is the ultimate convenience machine. It's designed to make vacuuming a hassle-free experience with zero cords, zero bags, and quickly converts into a handheld vacuum, making quick clean ups a breeze. It's powered by the powerful yet lightweight Dyson digital V10 motor, making it a powerful cordless vacuum while keeping the weight of the entire machine at an amazingly light 5.5 lbs!
Completely Cord Free
Powerful Dyson V10 Digital Motor
Converts To A Handheld
Three Suction Modes
Direct Drive Cleaner Head
Advanced Whole Machine Filtration
THE PERFECT MACHINE FOR ...
+
Bare Floors
Carpet/Rugs
Deep Pile Carpets
Very High Filtration
Easy Maneuverability
Upholstery
Ease of Use
Bagless Vacuuming
Cordless Vacuuming
Hard To Reach Spots
2-YEAR PARTS & LABOR
WARRANTY
AUTHORIZED DEALER
The warranty of this Vacuum Cleaner is 2 years on all parts and labor. Mr. Vac & Mrs. Sew is an authorized Dyson Dealer.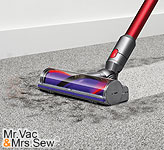 Direct-Drive Cleaner Head
The V10 Motorhead also comes with a Direct-Drive Cleaner Head made for accessing dirt and grime trapped deep inside carpets while still managing to remove dust from hard floors. With a powerful direct-drive motor pushing the brush deep into carpets, the Dyson Motorhead has 150% more brush bar power than the Dyson V6 Cordless Vacuum.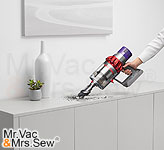 Converts To Handheld Vacuum
Every Dyson Cordless Vacuum can be converted into a handheld vacuum quickly and easily, making quick clean ups, spot cleaning, and vacuuming difficult areas a breeze.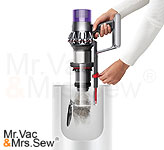 Hygienic Bin Emptying
The Dyson V10 Motorhead has eliminated the need for expensive vacuum bags and uses a hygienic bin instead. One simple action releases the dirt trapped inside the bin!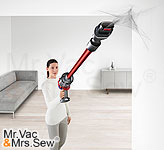 Cleans Hard To Reach Places
The Dyson V10 Motorhead is slim and cordless so it can easily be moved to reach high ceilings or low areas underneath furniture.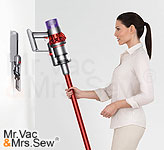 Convenient Docking Station
The V10 Motorhead fits easily into the docking station, which houses and charges the machine while simultaneously holding all the machine's attachments.
Powerful Dyson V10 Motor
The Dyson V10 Motorhead is powered by Dyson's V10 digital motor designed to make the Motorhead one of the most powerful cordless vacuum on the market.
14 Concentric Array Cyclones
Using 14 cyclones to generate forces of more than 79,000g, Dyson's Cyclone technology works in tandem with its powerful motor and battery to effectively trap microscopic particles like pollen and bacteria.
Advanced Whole Machine Filtration
The V10 Motorhead has Advanced Whole Machine Filtration so that the air that exits the machine is cleaner than the air that enters the machine. The machine is completely sealed so that all air leaving the machine passes through the filtration system which captures 99.97% of particles as small as 0.3 microns.
60 Minute Of Suction
The V10 Motorhead only uses the battery when the trigger is pressed, ensuring that the battery provides 60 minutes of fade-free suction each charge when using a non-motorized tool and 35 minutes with the Direct-Drive Cleaner Head on Suction Mode II.
Three Power Modes
The Dyson V10 has 3 different power modes to fit any situation. Hard Floors? Suction Mode I will suffice. Carpets? Suction Mode II is for you. Stubborn Messes? Simply put the machine into Max Power Mode to tackle the hardest of all clean ups.
Balanced For Easy Handling
The Dyson V10 Motorhead has been designed with the center of gravity near the grip, allowing for easy handling and lightweight cleaning to make cleaning high up on ceilings as easy as cleaning on the ground.
Great For Spot Cleaning
The V10 Motorhead can quickly turn into a handheld vacuum and has no cords and no bags meaning there is no setup time, allowing for quick and easy clean up.
Bonus Accessories!
In addition to coming with the Direct-Drive Cleaner Head, the Dyson V10 Motorhead comes with a Docking Station, Combination Tool, and Crevice Tool!