The new Miele Scout RX2 gives you cleaner floors throughout your entire home. The Scout RX2 seamlessly navigates an entire level of your home with its 3D Smart Navigation system which uses a collection of high tech sensors and 2 cameras to track its location. The Scout RX2 features Carpet Boost, which automatically increases its power on carpets where it's needed most. The RX2 will also automatically return to its charging station after cleaning and can all be operated via the app.
3D Smart Navigation
Quattro Cleaning System
Carpet Boost
60 Minute Clean Time
4 Cleaning Modes
THE PERFECT MACHINE FOR ...
+
Daily Maintenance
Bare Floors
Homes With Pet Hair
Touch-Up Cleaning
Busy Homes
In-Between Cleaning
Scheduled Vacuuming
Hard to Reach Spots
Dirt, Dust, Hair + Debris
Daily Dirt Build-Up
1-YEAR LIMITED
WARRANTY
AUTHORIZED DEALER
The warranty of the IRobot Roomba 980 Automatic Robotic Vacuum Cleaner is 1 Year Manufacturer's Limited Warranty On Robot and 6-Month Manufacturer's Limited Warranty On Battery. Mr Vac & Mrs Sew is an authorized iRobot dealer.
Free Overnight Delivery! When you purchase a Miele Scout RX2 Robotic Vacuum Cleaner from Mr. Vac and Mrs. Sew, you will receive Free Overnight Delivery with your purchase.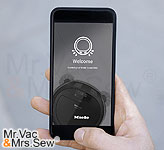 The Scout RX2 App
The Scout RX2 can be operated and controlled via its app for peak convenience. The RX2 app provides all important information and offers key control options at a glance.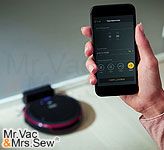 Simple Scheduling
The Scout RX2 App allows the user to easily schedule times for the RX2 to clean. Set it to clean when you're at work and come home to clean floors.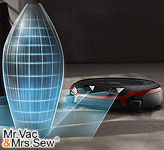 3D Smart Navigation
The Scout RX2 packs 2 Digital Ceiling Cameras, a Gyro Sensor, 7 Anti-Collision Sensors, and 3 Anti-Fall Sensors so that the robot always knows its position in your house.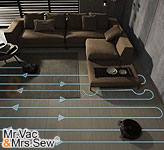 Interactive Mapping
The RX2 charts its own digital map to clean your home in a systematic and efficient way. View the map via the app and simply tell the RX2 what room to clean.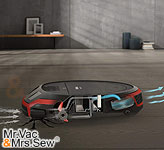 Quattro Cleaning System
The RX2 attacks dirt and debris with a 4 stage plan. First the RX2 sweeps up dirt next to it into its path with its dual sidebrushes. Then a roller brush catches the dirt and pushes it into the path of the suction. Next the suction traps the dirt and send it on its way to the dust bin. Finally a second suction aperture in the rear is sure to pick up any remaining dust.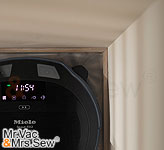 Dual Extendable Side Brushes
The RX2 features a pair of dual sidebrushes that extend out to reach dirt in the smallest nooks and crannies. The sidebrushes move into the machine when they encounter resistance allowing the machine to get in close to walls and corners.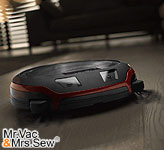 4 Cleaning Modes
The Miele Scout has 4 different cleaning modes to suit any need.
Auto - The RX2 operates autonomously, cleaning anything it can and then returning to recharge
Silent - The RX2 cleans quietly for peace and quiet
Spot - The RX2 cleans anything in a roughly 6 foot radius for quick spot cleaning

Turbo - The RX2 cleans faster for when time is of the essence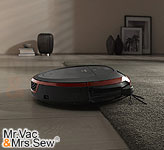 Carpet Boost
While in Auto mode, the RX2 activates Carpet Boost when it detects it is cleaning carpet. Suction is increased on carpets where it's needed most.
60 Minute Run Time w/ Auto Recharge
The RX2 has a battery that lasts for 60 Minutes. When the machine is low on battery it automatically returns to its charging station to recharge.
Pleated AirClean Plus Filtered Bin
The machine and its bin is filtered using its AirClean Plus filter so that captured dirt and debris stays in the machine where it belongs.
Remote Control
The RX2 also comes with its own remote control to operate it for when your phone isn't around.
Included Magnetic Tape
Included with the Scout RX2 is a roll of magnetic tape. Is there an area that the RX2 should not clean? Simply place a strip of magnetic tape across the floor to indicate to the RX2 where not to go.
2-YEAR
WARRANTY
AUTHORIZED DEALER
The warranty of this Vacuum Cleaner is 2 years on all parts and labor. Mr. Vac & Mrs. Sew is an authorized Miele Diamond Dealer.
ROBOT DIMENSIONS -

13.9" in Diameter, 3.3" High

ROBOT WEIGHT -

7 lbs

RUN TIME -

60 Minutes

CLEANING SYSTEM -

Quattro Cleaning Power

FILTRATION -

AirClean Plus Filter

NAVIGATION -

3D Smart Navigation

CONTROLS -

Miele Scout RX2 App / Remote Control

SCHEDULING -

Up to Seven Times Per Week