The Miele Compact C1 HomeCare Canister Vacuum Cleaner sports both bold styling and cleaning performance in an economy package all while boasting an impressive 5-year warranty meaning that this machine is guaranteed to last.
Available In-Store Or By Phone Only
Miele STB 205-3 Turbobrush
Miele SDB 285-3 Floor Tool
6-Position Suction Control
Telescopic Stainless Steel Wand
29.5 Foot Operating Radius
THE PERFECT MACHINE FOR ...
+
Bare Floors
Area Rugs
Medium to Low Rugs
Lightweight Vacuum Seekers
Wood Floors
Tile Floors
Quiet Vacuuming
Stairs
7-YEAR MOTOR
WARRANTY
AUTHORIZED DEALER
The warranty of this Vacuum Cleaner is 7 years on the motor and 1 year on all parts and labor. Mr. Vac & Mrs. Sew is an authorized Miele Diamond Dealer.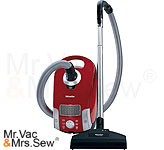 Lightweight and Powerful
The Miele Compact C1 HomeCare Canister Vacuum Cleaner is extremely lightweight (only 9.7 pounds!) and can be carried up and down the stairs with ease. The Miele Compact C1 HomeCare Canister Vacuum Cleaner is also very quiet thanks to a noise optimized fan and integrated silence. Now you can vacuum without disturbing those at sleep and go up and down stairs with ease - noise insulation and little weight makes your cleaning a pleasure! Not only is the Miele HomeCare lightweight and quiet, it is also extremely powerful thanks Miele's Vortex Motor. The Miele Vortex 1200 Watt Motor System, developed in Miele's Factories in Germany, obtains optimal usage of power through airflow thus resulting in great performance with superior dust intake. Powerful, lightweight and quiet - What a Combination!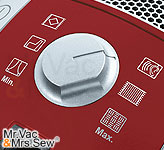 Suction Control Via Rotary Dial
The Rotary Dial located at the back of the machine allows you to adjust the suction to your liking. Whether you are vacuuming drapes, upholstery, throw rugs, large area rugs, carpeting or bare floors the Miele HomeCare has you covered. The Miele HomeCare even has a Quiet Setting that delivers optimal amount of power at the lowest decibel rating.
Integrated Wand Holder
The Miele HomeCare Vacuum Cleaner has a convenient fitting on at the backside of the canister for safe storage and easy transportation. Carry the vacuum cleaner up or down stairs and have the other hand free to hold on to the railing.
Getting Around
Avoid the need of having to change sockets halfway through vacuuming! Together with the hose and suction tube the Miele Vacuum cleaner has an operating radius of 29 ½ feet!
Omnidirectional
Three smooth-running 360 degree wheels mounted on steel axles to ensure maximum stability for your Miele vacuum cleaner. The castor wheels are even designed with a travel ramp to help your vacuum travel over thresholds and around obstructions! No detail is to small for Miele's design team.
Miele VarioClip for On Hose Tool Storage
The best cleaning comes from the best tools. That's why C1 vacuums come with a VarioClip, which can either stand-alone in your closet or be attached to the hose. The VarioClip hold three handy and durable accessory tools: a crevice nozzle, dusting brush and upholstery tool. You can access these tools quickly and clean everything in sight, even those hard to reach places like behind the sofa or between the refrigerator and cabinets.
Complete Set of Tools
The Miele HomeCare vacuum comes complete with a crevice tool, an upholstery tool and a dusting brush. Tools are always on hand, whenever you need them!
Crush-Proof Hose
The Miele Compact C1 HomeCare Canister Vacuum Cleaner's hose is crush-proof and will not bend or warp if you step on your hose accidentally or drop something heavy on it.
Ergonomic Hose Handle
Everything about the Miele Compact HomeCare has been well thought out. The handle is no exception. The handle is lightweight and comfortable in your hand.
Quick Connects
The Miele HomeCare connects together with a simple click. All the connections are easy to take apart and put back to together. Just a click and it is together. Each section of the wand, the hose handle and the floor tool is firmly connected by Miele's unique locking system. Each piece can be easily released by depressing the latch.
Telescoping Stainless Steel Wands
Adjusts to the perfect size no matter who uses the Miele vacuum cleaner! The wands are made of stainless steel, for years of use.
The Miele STB 205-3 Turbobrush
The Miele HomeCare comes with Miele's STB 205-3 Turbobrush which is activated by the suction that is drawn through the head. Its rotating roller brush loosens the dirt and sweeps up fluff and hair! This tool is perfect for anyone with Area Rugs and Low-Medium Pile Carpeting. The Turbo Head has All Rubber Wheels and a Squeegee for hard floor cleaning.
Allteq Combination Rug and Floor Tool SBD285-3
This universal tool is ideal for all smooth flooring and very low pile carpeting. It allows you to go from smooth floors to carpeted surfaces with a quick click of the rocker switch. The metal glide sole is gentle to even the most sensitive flooring. Carpets and rugs can be gently and thoroughly vacuumed.
Safety Shut-Off on Overheating
The Miele Compact C1 HomeCare Vacuum Cleaner includes a safety feature which turns off your vacuum, if problems such as over heating arise. This feature saves your vacuum motor unnecessary stress in case of either an obstruction, improper placement of the bag, etc.
Powerful Yet Quiet
Not only is Miele Compact C1 HomeCare Vacuum Cleaner powerful, it is also surprisingly quiet. So you can relax while someone does the cleaning.
20 Years Average Use
Miele vacuum cleaners are designed and tested for a life of 1,000 working hours, which with an average of 50 hours vacuuming a year will give you excellent service for up to 20 years.
Made In Germany
For over 80 years, Miele vacuum cleaners have been making housework simple. They have gone from strength to strength, from the very first bucket-type cleaner in 1927, to the most popular model ever, the Cat and Dog.
1200-watt, Miele-made Vortex Motor System
A real power pack : the C1 motor is developed and produced in the Miele Factories in Germany.
5-YEAR
WARRANTY
AUTHORIZED DEALER
The warranty of this Vacuum Cleaner is 5 years on all parts and labor. Mr. Vac & Mrs. Sew is an authorized Miele Diamond Dealer.
MOTOR -

1200-watt Vortex Motor

MACHINE WEIGHT -

9.7 lbs

MACHINE SIZE -

W 15" X H 10.75" X D 23"

OPERATING RADIUS -

29.5 Feet

FILTRATION -

AirClean System

BAG -

FJM AirClean FilterBag

SUCTION CONTROL -

Rotary Dial On Machine

COLOR -

Mango Red