Free Genuine Replenishment Kit Included! ($74.99 Value) - Replenishment Kit Includes 3 Extra Sidebrushes, 3 Extra High Efficiency Filters and a Set of Aeroforce Extractors! The Roomba S9+ Robot Vacuum - For corners, edges, and the details in between. The S9+ has a suite of groundbreaking technology designed to clean deep into corners and along edges, map your home, and empty on its own. Its iRobot's smartest, most powerful robot vacuum yet!
Free Genuine Replenishment Kit Included!
Automatic Dirt Disposal Empties on its own
Superior 3-Stage Cleaning System
PerfectEdge Technology
30% Wider Dual Multi-Surface Rubber Brushes
Imprint Smart Mapping
THE PERFECT MACHINE FOR ...
+
Daily Maintenance
Bare Floors
Homes With Pet Hair
Touch-Up Cleaning
Busy Homes
In-Between Cleaning
Scheduled Vacuuming
Hard to Reach Spots
Dirt, Dust, Hair + Debris
Daily Dirt Build-Up
1-YEAR LIMITED
WARRANTY
AUTHORIZED DEALER
The warranty of the iRobot Roomba S9+ Automatic Robotic Vacuum Cleaner is 1 Year Manufacturer's Limited Warranty On the Robot. Mr Vac & Mrs Sew is an authorized iRobot dealer.
Imprint Smart Mapping
Imprint Smart Mapping technology is the robot's ability to learn, map and adapt to your home. The Roomba S9+ learns your floorplan as it cleans and remembers this map for future cleaning jobs – this enables the robot to determine the best way to clean based on the orientation of each room, furniture placement, etc.
iRobot HOME App
Once the robot has learned your space, the S9+ produces a Smart Map that you can customize in the iRobot HOME App. You can merge, split and label rooms as you see fit. After that, you can even set a schedule so that the Roomba S9+ cleans certain rooms on specific days at certain times, or an entire level of your home on the days you choose.
The S9+ Delivers 40x The Suction
The Superior 3-Stage Cleaning System Delivers up to 40X the Suction of the 600 Series Roomba, and up to 4x the Power of the iRobot i7
Power Boost Technology
The Superior 3-Stage Cleaning System with Power Boost provides up to 40x the air power by automatically increasing performance on carpet and rugs, where dust and dirt hide. Roomba also automatically adjusts to clean carpets, tile, hardwood and laminate floors as it moves through your home.
PerfectEdge Technology
PerfectEdge Technology with advanced sensors, and the specially designed Corner Brush with five arms to grab dirt and debris from deep in corners and along walls, directing it into the robot's path to be vacuumed up.
30% Wider Multi-Surface Brushes
When Compared to the Roomba 600 Series, the S9+ has 30% wider multi-surface brushes meaning more cleaning with every pass. Uniquely designed rubber brushes that stay in constant contact with carpets and hard floors, to get everything from small particles like dust and dirt, to hair and large debris.
Clean Base Automatic Dirt Disposal
The Roomba S9+ Robot Vacuum with Clean Base Automatic Dirt Disposal takes convenience to a new level - automatically emptying into an enclosed, disposable bag that holds 30 robot bins, so you don't have to think about vacuuming for weeks at a time.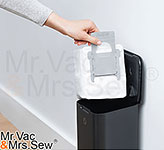 Holds 30 Robot Bins of Dirt
Clean Base is designed to hold 30 robot bins of dirt and debris. For some households, this might be one month, for others it could be longer. Results vary based on floor surfaces, whether or not you have pets, etc. Once the bag is full, you will be notified via the iRobot HOME App and you can simply remove it and replace it with a new one.
Ideal for Homes with Pets
The Robot itself features a High-Efficiency Filter which traps 99% of mold, pollen and dust mite allergens. While The Clean Base Automatic Dirt Disposal unit eliminates the dusty and dirty mess often associated with emptying vacuum bins. The Anti-Allergen System of the S9+ traps and locks in 99% of mold, pollen and dust mite allergens – from the robot to the high efficiency filter to the Clean Base – so that they don't escape back into the air
"Roomba, Clean My Kitchen"
Choose which rooms are cleaned and when in the iRobot HOME App. Enjoy hands-free control with Alexa and Google Assistant.
Imprint Link Technology
The next generation of connected home automation—powered by Imprint Link Technology. Roomba S9+ and Braava jet m6 robots map your home and clean your floors, vacuuming then automatically mopping, without any effort from you.
Wall Following Technology
Roomba follows walls very carefully using its many sensors to get close to walls and edges. The spinning side brush pushes debris into the path of the 3-stage cleaning system that was designed to clean every square inch of your floors.
Accesses Hard To Reach Spots
Because it cleans under beds, couches, and other hard-to-reach areas, it actually vacuums more of the floor than a standard upright. The vacuum also senses dirtier areas and spends more time cleaning them.
Keeps getting smarter
Equipped with advanced hardware capable of providing the intelligent features you love today, and access to the latest advancements in the future.