Free Genuine Replenishment Kit Included! ($49.99 Value) - Replenishment Kit Includes 3 Extra Sidebrushes, 3 Extra High Efficiency Filters and a Set of Aeroforce Extractors! The Roomba i7 robot vacuum uses a premium 3-Stage Cleaning System with Dual Multi-Surface Rubber Brushes and 10X suction to clean different floor surfaces throughout your home. Roomba i7 learns, maps and adapts to each room, using Imprint Smart Mapping technology, letting you control which rooms are cleaned and when. Cleaning power is always at your fingertips with the iRobot HOME App - you can control when, where, and how your robot cleans all from your smart phone.
Free Genuine Replenishment Kit Included!
Power Lifting Suction
iAdapt 3.0 Navigation
Imprint Smart Mapping
Dual Multi-Surface Rubber Brushes
THE PERFECT MACHINE FOR ...
+
Daily Maintenance
Bare Floors
Homes With Pet Hair
Touch-Up Cleaning
Busy Homes
In-Between Cleaning
Scheduled Vacuuming
Hard to Reach Spots
Dirt, Dust, Hair + Debris
Daily Dirt Build-Up
1-YEAR LIMITED
WARRANTY
AUTHORIZED DEALER
The warranty of the iRobot Roomba i7 Automatic Robotic Vacuum Cleaner is 1 Year Manufacturer's Limited Warranty On the Robot. Mr Vac & Mrs Sew is an authorized iRobot dealer.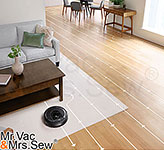 iAdapt 3.0 Navigation with Visual Localization
Roomba i7 is the only Robot Vacuum that can be scheduled to clean specific rooms by name. When the i7 first goes out to clean, it uses it's full range of sensors to map out your floor and the world around it. Roomba then uploads the information collected by its sensors to the iRobot HOME app to allow you to properly name each room. You can then direct the Roomba i7 to where you want it to clean by voice commands using Alexa-enabled devices and the Google Assistant. As an added bonus, the iRobot i7 will automatically orient the vacuuming pattern to match the orientation of the room. So you come home everyday to the perfect vacuumed lines in your carpet! To enjoy these features, enable Smart Maps in the iRobot HOME App.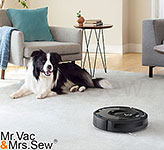 iRobot Moves Around Obstacles
The i7 easily moves and cleans around obstacles, under and around couches, and along walls ensuring a thorough cleaning. The molded, soft-touch bumper cushions the contact between Roomba and furniture, walls and other objects. Light-Touch Bumper Technology accurately discerns soft barriers from solid barriers, allowing Roomba to go under curtains, bed skirts and couch skirts. Because the i7 cleans under beds, couches, and other hard-to-reach areas, it actually vacuums more of the floor than a standard upright. Removing loose pet hair and dust bunnies that would otherwise go unoticed.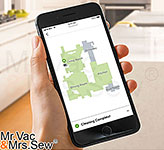 iRobot HOME App
Roomba i7 builds a map of the area each time it starts a new cleaning job. After cleaning the same space a few times, Roomba i7 will produce a Smart Map that is pre-segmented into different spaces or rooms. This map can be customized in the iRobot HOME App. You can merge, split and label rooms as you see fit. After that, you can schedule the Roomba i7 to clean certain rooms at certain times, or have the robot clean an entire level of your home. The Roomba i7 can remember up to 10 unique floor plans, so you can carry the robot to a different floor or a different home. As long at the robot has mapped the space, it will recognize its location and clean as directed.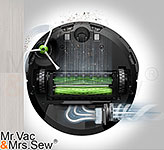 AeroForce Cleaning System
Dirt and dust can't hide from the 3-Stage Cleaning System. Dual Multi-Surface Brushes, a specially designed Edge-Sweeping Brush, and suction, attack everything from small particles to large debris on your carpets and hard floors. The High-Efficiency Filter locks in and captures 99% of cat and dog allergens, allowing allergy sufferers to breathe easy. And when compared to the old 600 Series Aerovac system, the i7 provides 10x the suction power, giving you the best suction to clean your house with!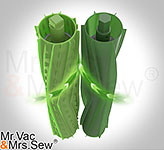 Dual Multi-Surface Brushes
Each brush is uniquely designed with rubber treads that stay in constant contact with different floor surfaces - from hard floors to carpets - adjusting and flexing, to get everything from small particles like dust and dirt, to hair and large debris.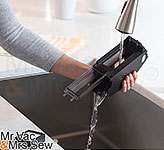 Washable Vacuum Bin
New to the i-Series, the vacuum bins are now washable! Previous generations of Roomba vacuums had the suction motor located inside of the vacuum bin, making it impossible to wash out the bin. iRobot's engineers have now relocated the suction motor to the inside of the main unit instead of the bin, removing any chance of getting the motor wet while cleaning the bin!

Although the bin is washable, it is not Dishwasher safe. The washable bin should be rinsed by hand using warm water.
Important: Be sure to remove the filter before rinsing the bin and allow the bin to dry completely before reinstalling the filter.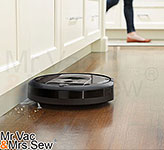 Wall Following Technology
Roomba follows walls very carefully using its many sensors to get close to walls and edges. The spinning side brush pushes debris into the path of the 3-stage cleaning system that was designed to clean every square inch of your floors.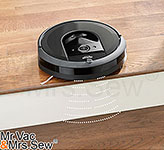 Cliff Detection Sensors
iAdapt Navigation uses a full suite of intelligent sensors to guide the robot under and around furniture. Cliff Detect sensors prevent the robot from falling down stairs or tumbling over drop-offs.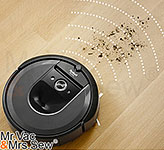 Dirt Detect Technology
Like a small dirt detective, working for you. Roomba Robots remove dirt from high traffic spots of your home using Dirt Detect Technology. Sensors recognize areas that need more attention and prompt the robot to clean them more thoroughly.
Some Key Features of the iRobot i7
- iRobot HOME App Lets you Clean, Schedule, & Customize Cleaning Preferences from your Smartphone
- Cleans an Entire Level of your Home with iAdapt® 3.0 Navigation with Visual Localization
- Only Robotic Vacuum that can be scheduled to clean specific rooms by name
- Runs for up to 75 Minutes, then Automatically Recharges and Resumes Cleaning to Complete the Entire Job
- AeroForce® Cleaning System Loosens, Lifts & Suctions Dirt with up to 10x More Air Power
- Automatically Increases Cleaning Performance on Carpets with Power Boost
- Use Clean Map™ Reports to View where your Robot has Cleaned, Turn on Notifications for Cleaning Status Updates
- AeroForce® High-Efficiency Filter Captures 99% of Allergens, Pollen, and Particles as Small as 10 Microns
- Tangle-free Dual Multi-Surface Brushes Handle Pet Hair with Ease
- Ask your Amazon Alexa Device or the Google Assistant to Start, Stop, or Dock your Robot
- Full Suite of Intelligent Sensors Guide the Robot Under and Around Furniture
- Automatically Docks and Recharges so your Robot is Always Ready to Clean
- Cliff Detect Sensors Prevent the Robot from Falling Down Stairs or Tumbling Over Drop-Offs
- Specially Designed Edge-Sweeping Brush Sweeps Debris from Along Wall Edges and Corners
- 3.6" Low Profile Cleans Under Furniture, Beds and Toekicks
- Built Using over 25 Years of Robotics Expertise and Innovation
1-YEAR LIMITED
WARRANTY
AUTHORIZED DEALER
The warranty of the IRobot Roomba i7 Automatic Robotic Vacuum Cleaner is 1 Year Manufacturer's Limited Warranty On the Robot. Mr Vac & Mrs Sew is an authorized iRobot dealer.