The Breville Barista Express is an espresso lover's dream, allowing for great tasting espresso in less than a minute. The Barista Express grinds beans with ease for the freshest espresso possible and comes complete with a steam wand to transform milk into a silky smooth micro-foam, perfect for latte art, providing everything you need for café quality espresso straight from your home.
Precise PID Temperature Control
Built-In Conical Grinder
Micro-Foam Milk Texturing
Custom Pre-sets
Stainless Steel Construction
THE PERFECT MACHINE FOR ...
+
Coffee Lovers
Espresso Lovers
Cappuccino Lovers
Latte Lovers
Amateur Baristas
Professional Baristas
Latte Art
Café Quality Coffee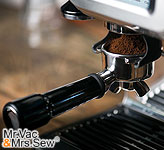 Built-In Conical Burr Grinder
When it comes to premium café quality coffee, freshness is everything. Within just minutes of being ground, coffee beans begin to lose their flavor. With the Barista Express, beans are freshly ground in a matter of seconds thanks to the built-in grinder. Go from beans to espresso in under a minute with the Barista Express.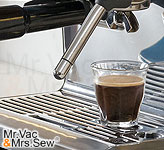 Proper Café Quality Dosage
There's a reason why home-made coffee almost never tastes as good as café coffee. Most other coffee makers only use a dosage of 11-13 grams of ground coffee which is not enough to deliver that rich taste only professional coffee can provide. The Barista Express uses 19-22 grams of coffee for perfect professional flavor.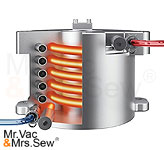 Thermocoil Heating System
The Barista Express uses an advanced thermocoil heating system, allowing for the water to be heated very fast without sacrificing taste.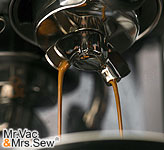 Precise PID Temperature Control
Breville knows that when it comes to espresso, a constant precise temperature is everything. A change of even 1°C is enough to throw off the taste of good espresso which is why the Barista Express has Precise PID Temperature Control. This technology detects and minimizes any temperature fluctations that may occur to keep your espresso consistently flavorful.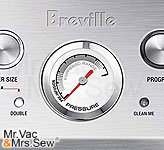 Proper Pressure Control
Professional espresso also requires proper pressure control, something the Barista Express handles with ease. Using low pressure pre-infusion and 9 bar extraction pressure, the Barista Express ensures that your ground coffee is evenly soaked for professional flavor.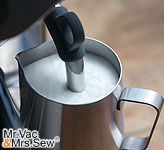 Micro-Foam Milk Texturing
The Barista Express has a built-in 360 degree swivel steam wand allowing you to texture your milk for micro-foam milk, perfect for cappuccinos and lattes while allowing for the creation of latte art.
Café Quality Latte Art
Great tasting coffee alone isn't enough to qualify as café quality and Breville knows this. Café coffee isn't complete without latte art. Simply texture your milk with the steam wand and create away. With the Barista Express you can create latte art like a professional.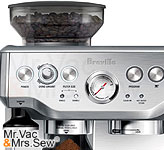 Custom Pre-sets
Found the right settings for the perfect amount of coffee? Make those settings a pre-set so your favorite settings are available at the touch of a button. The Barista Express comes with customizable pre-sets for both single and double shots making using your Barista Express as easy as pressing a button.
Stainless Steel Construction
The Breville Barista Express is made to last. Housed in an attractive yet durable stainless steel shell, the Barista Express is the perfect addition to any kitchen.
Built-In Cup Warmer
Located on top of the Barista Express is the built-in cup warmer to preheat your cup before you drink from it, ensuring that every bit of the coffee experience is absolutely perfect.